Top & Best 17 Snowfall Destinations in India.
1. Sonamarg, Kashmir : If There Is a Paradise Full of Snow Fall in India , It Is Here!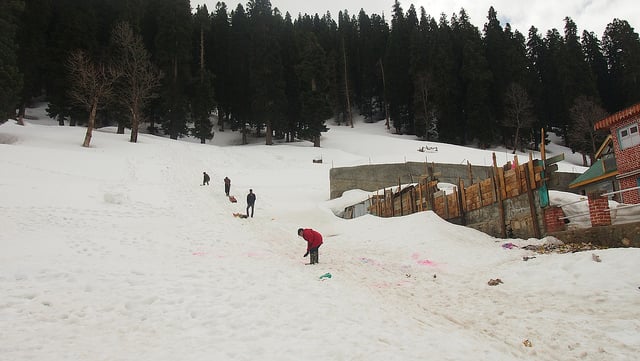 Snow season: November – April

Glaciers, frozen lakes and snow carpets rolled out till the horizon, Sonamarg, literally translating to 'The Meadow of Gold', is a snow paradise in winters. A popular destination to see snowfall in India for mountain lovers, this place is covered with a beautiful sheet of snow in the peak winters and is a sight to see and experience. Since summers hit this area a bit late, in May, you can occasionally find snow in April, while the rest of the country is already playing host to summers. It's also a great place for trekking and river rafting. Thajiwas Glacier is a must visit place if you are going to Sonamarg in the summer season.
2. North Sikkim – An Perinnial Snow Place in India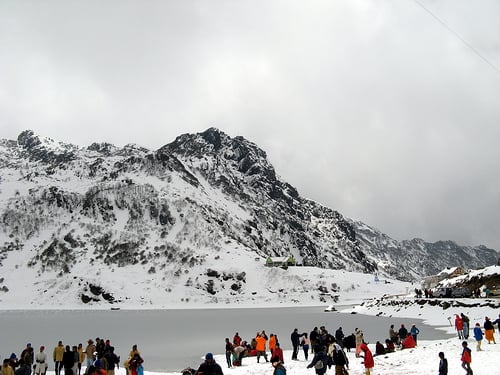 Snow season: Tsomgo lake, Nathula, Yumthang, are highly likely to have snowfall for almost the entire year – So somewhere around April is a good time to visit. For most other areas though October – December would be good for snow.

Yumthang is known for experiencing snow almost all year round. However, most of the areas here are prone to blockages and being shut down due to heavy snow. So, it's advisable to always and always check and confirm before you plan a trip to this place. Also if you are visiting in winter, prepare well to brave the extremely harsh winter conditions. But the spectacular views one gets while in one of the best snow places in India is totally worth the pains. Snow enthusiasts should avoid visiting this place during the monsoon season as the snow starts melting and heavy rains are witnessed.
3. Manali and Rohtang Pass – the Essentials!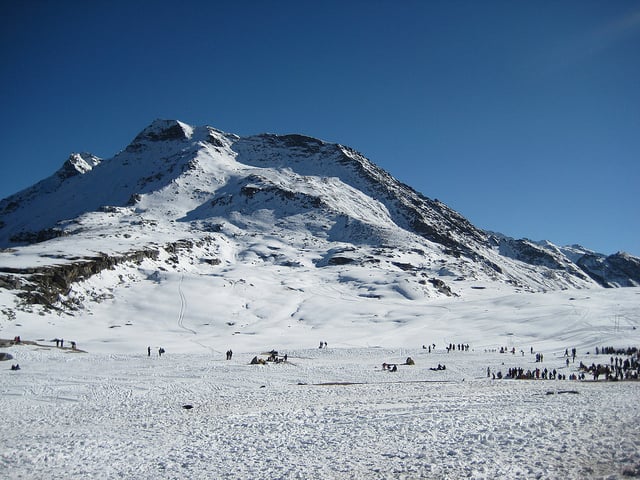 Snow season: October to March for Manali and October to December if you are planning to visit Rohtang as well.

Manali is a famous hill station located in the beautiful state of Himachal Pradesh. Surrounded by the towering Himalayan peaks and gorgeous valleys, it's often visited together with the Rohtang Pass. Manali and Rohtang Pass clubbed together are one of the best snow places in India. Solang valley and adventure sports activities such as skiing, mountaineering and trekking are a must while you're in Manali. At Rohtang, blockages and traffic jams are common, so always check before you head out. It's usually closed from January to April, so avoid those months too. Also, definitely avoid visiting these places during the monsoon season.
4. Gulmarg – Skiing and Snowboarding in an Infinitely Picturesque Snow Place in India!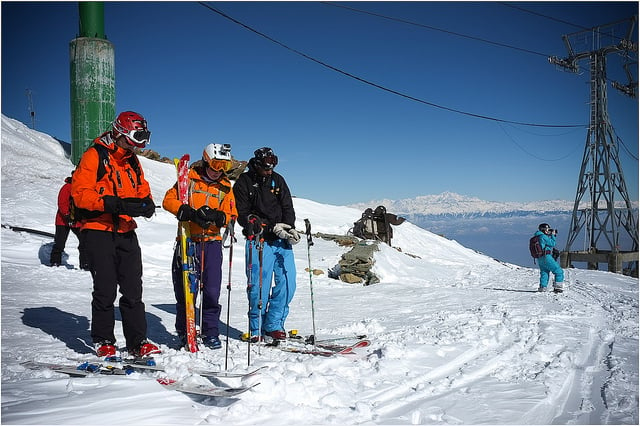 Snow season: December to early March are ideal for skiing and snow lovers.
Gulmarg is famous for being one of the best skiing destinations and snowfall places in India. It is located in the Indian state of Jammu and Kashmir and is a premier hill resort in North India. The exceptional beauty of Gulmarg and also it's proximity to Srinagar attracts thousands of tourists every year. While Gulmarg is a delight in summers, it is probably more fun in winters when tourists can indulge in several adventure sports activities such as skiing, snowboarding, the famous Gondola cable ride and trekking. Panoramic views of the highest mountain peak in India, Mount Kanchenjunga can be enjoyed while here. Gulmarg also often acts as a base camp for mountaineers on their way to climb the Nanga Parbat and peaks in the Pir Panjal Range.
5. Nainital – a Simple Postcard Hill Station with Snow in India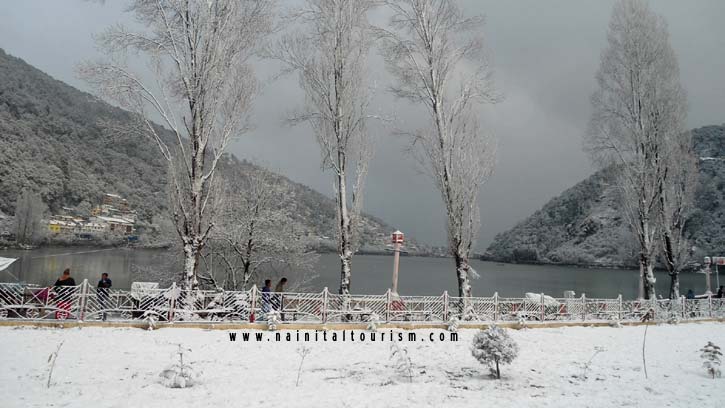 Snow season: October – February

With lakes and viewpoints and simple tourist spots, Nainital is the place to go when you want to experience snowfall in India without facing the extraordinarily harsh temperatures of the places which are higher North. It is blessed with immense scenic beauty and due to the number of lakes present here, it's been given the tagline of being the 'Lake District of India'. One of the best places to view snowfall in Nainital is from the Snow Point which is accessible via the Ropeway. Though it's become quite a commercialised place, the amazing experience you'll have here is totally worth it.
6. Ladakh: Chadar (the Frozen River) Trek – the Ultimate Experience for Snow Lovers in India!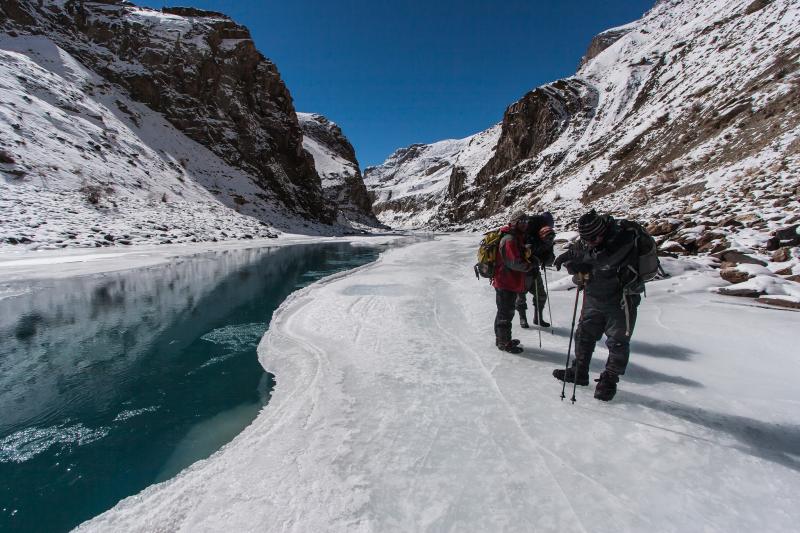 Snow season: January to February for the trek. Leh-Manali highway is shut beyond September, otherwise.

While Leh remains beyond reach for most winters given the harsh conditions, the Chadar Trek is supposed to be an experience like no other and one that every true traveller and trekker has on their list. It's a challenging 9-day trek across the frozen Zanskar river which starts from January in several batches and continues till February, sometimes even March. Several groups and organisations participate in it. A warning, though. This trek is not for novices and is meant for trekkers who've had relatively good experience in this arena. That said, Chadar Trek is bound to fascinate you if you want to experience the most amazing snowfall in India. There is also a certain Stok Kangri Trek, as challenging as the Chadar Trek.
7. Auli – a Winter Wonderland in India!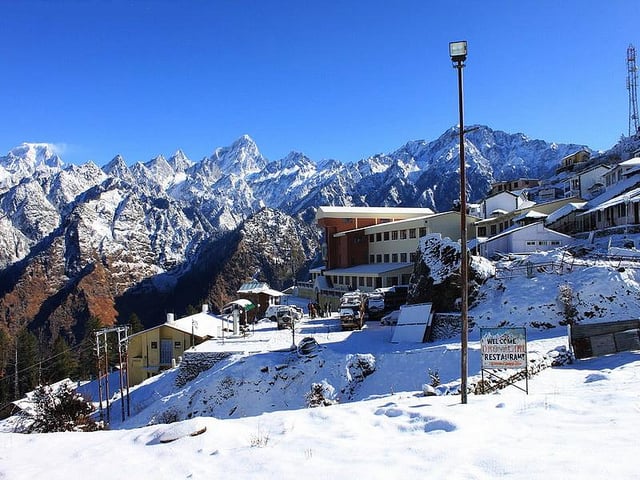 Snow season: January – March

With slopes dotted with skiing resorts and calendars marked with skiing championships and festivals, Auli is a favourite amongst snow places in India among travellers. Mainly famous for it's perfect, snow-clad slopes meant for skiing, Auli is one of the best places in India to see snow. Initially, it wasn't as famous as it is now, considered to be just a small offbeat hill station. One can enjoy some beautiful panoramic views of the tall, lofty mountain peaks of the Himalayas, such as Nanda Devi, Mana Parvat and Kamat Kamet. One can also plan a trip to Joshimath, a place of deep religious significance to the Hindus located very close to Auli. Auli is one of the best snow places in India offering mesmerizing views of the Himalayas.
8. Patnitop – Enjoy the Magnificent Snow Place While Paragliding !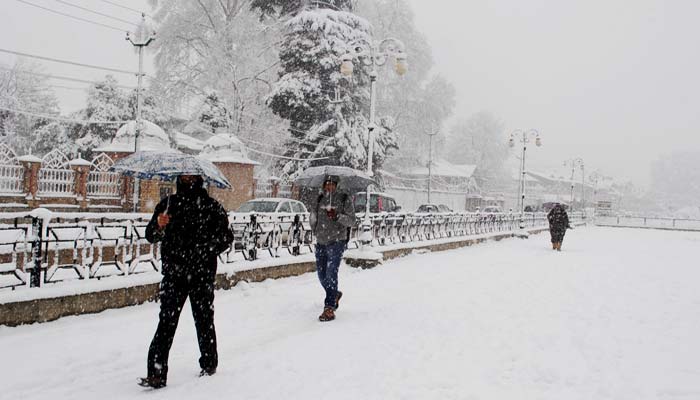 Snow season: December – March

Located in the Udhampur district of Jammu and Kashmir, Patnitop is a hill resort nestled in the Shiwalik range of the Himalayas. Famous for its alluring natural surroundings, which include pine and deodar forests and the serene Chenab river. This little hamlet at the foot of the Kashmir Valley is considered as one of the most peaceful snow places in India. This paragliding destination only becomes better with the large white expanses of snow in the winter season, when people indulge in snowboarding and skiing activities. One can also visit places like Batote (a small hill station close by) and other surrounding areas. However, do check for the availability of paragliding options beforehand, if going especially for the same.
9. Hemkund Sahib Valley of Flowers – a Gurudwara Between Lakes and Snow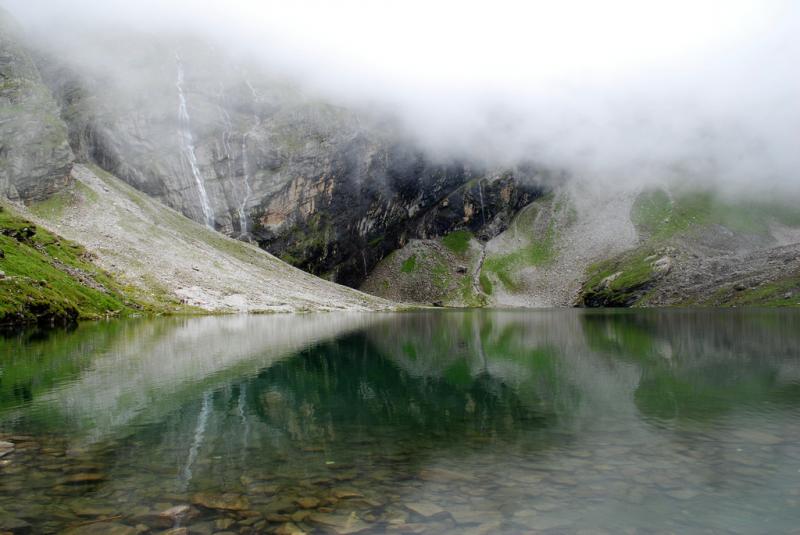 Snow season: October – December

Literally translating to 'Lake of Snow', Hemkund Sahib and the valley and usually remains closed from December to May. However, a short window of October and early December is ideal for snowfall in Hemkund and the valley. Located at a height of 4600 meters above sea level, the gurudwara here is dedicated to Guru Gobind Singh, the 10th Guru of the Sikhs. Conditions are harsh and hence reaching the place is not an easy feat at all. But the experience is splendid. One must always check with official/local authorities before planning a visit to Hemkund, as the dates for this place tend to vary widely and are subject to changes.
10. Narkanda – Skiing, Orchards and Lakes Full of Snow in India!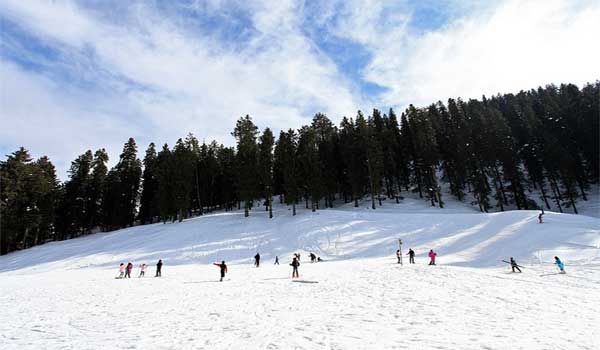 Snow season: December – January

Not located very far from the famous hill station Shimla, Narkanda is the place to go if you aren't looking for anything extreme but to simply enjoy skiing, hill station ambience and views. This lovely snow place in India offers a splendid view of the snow-capped Himalayas along with the lovely, dense forests and heavenly apple orchards! Thanedar is a place about 17 kms from Narkanda which is known for having some of the best apple orchards in the country. Winters are the best time to visit this small hill station, when skiing opportunities are at their prime, owing to the thick blanket of snow which covers Narkanda. A scenic pass called Jalori pass can also be visited while here.
11. Roopkund Trek – a Lake Full of Snow with Skeletons Around!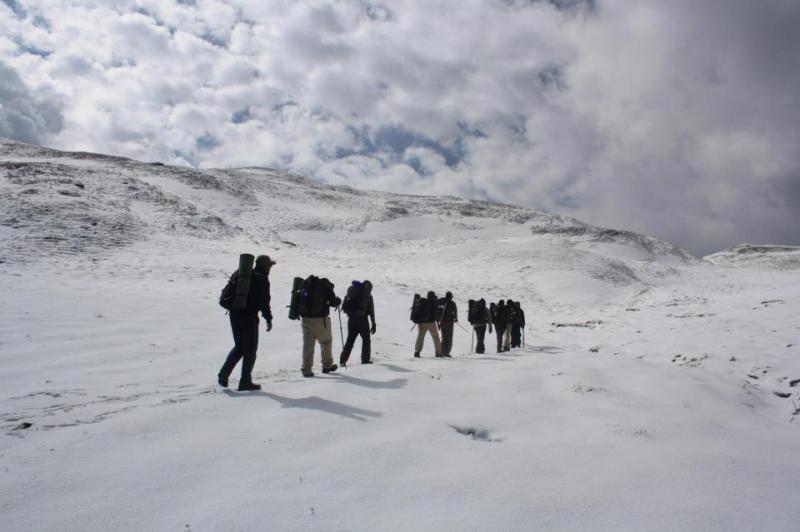 Snow season: September to October, if you wish to go in winters.

A very mysterious and unusual trek which take place in the higher Himalayas, the Roopkund Trek is a 8-9 days long trek to the glacial Roopkund lake which lies in the Garhwal Himalayas. This beautiful snow trek is a very challenging trekking experience in so many different ways. The lake remains frozen throughout the year. An aura of mystery and spookiness surrounds this lake as plenty of human skeletons have been discovered lying in very close proximity to the lake. You can also try this one in summers, if not especially going for snow.
12. Shimla – the Hill Station You Can?t Go Wrong With!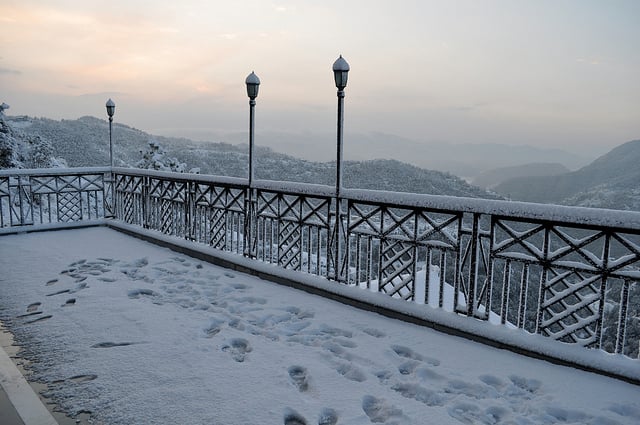 Snow season: December – January

A favourite for everyone at any time of the year, this one is probably all the more fun in winters because of the intermittent snowfall and snow clad beauty of Shimla. One of the most popular and heavily commercialized hill stations in North India, Shimla is an ideal place to visit in winters, especially for all the snow buffs and enthusiasts. It earlier used to be the summer capital of British India, and hence one can find several remnants of Colonial era architecture while here. Places like Kasauli, Mashobra and Chail are located quite close to Shimla, and one can plan a day or two worth of trip to these places as well. So head over to Shimla in the winters to experience the snow, pleasant weather and picturesque sceneries. It will never disappoint you.
13. Munsiyari, Uttarakhand – an Offbeat Snow Place in India

Snow season: Late December – Early February.

A small town located at the base of the Himalayas, Munsiyari is a part of the Northern Indian state of Uttarakhand. Due to its enchanting beauty and raw natural surroundings, it's been given the tagline of being 'Little Kashmir'. Also, it name literally translates to being 'A place with snow'. Not a very popular destination yet, it's slowly making its way through as a tourist hub. Thamari Kund, Darkot and Madkot are some places to visit while here. Madkot is especially known for its hot water springs which are truly a bliss in the freezing winters. Munsiyari is also becoming exceedingly popular amongst mountaineers, trekkers, who use it as their base camp.
14. Dalhousie + Khajjiar, Himachal Pradesh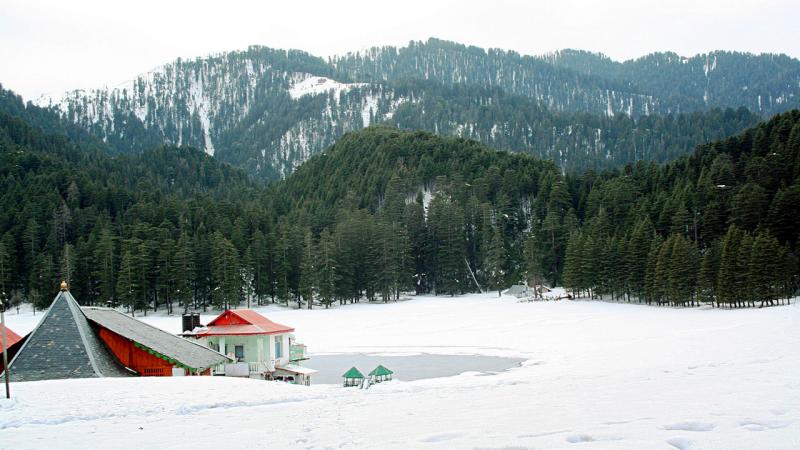 Snow season: November – February

This charming hill station in Himachal Pradesh has been well known since the Colonial era, when it served the purpose of being a summer retreat for the British bureaucrats. It's a popular hill station in the Himachal and clubbed with Khajjiar, it's one of the ideal places to visit if one wants to see snow in India. Though the winters here are exceedingly harsh here due to very low temperatures, this is the time when it snows the most and tourists flock this place to experience the snow and also avail some nice discounts on travel packages. Dalhousie is absolutely beautiful during the snow season.
15. Almora, Uttarakhand – Snow haven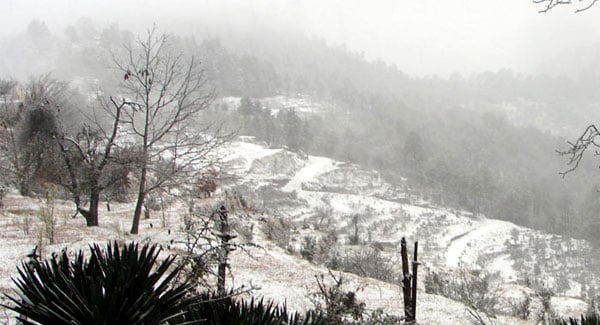 Snow season: December – February

Known for its rich cultural heritage, stunning views of the mountains and it's natural scenic beauty, Almora is a hill station located in Uttarakhand and attracts tourists from all over the world. It boasts of having some Colonial significance as well. It's picturesque locales and the panoramic views of the Himalayas attract thousands of tourists every year. Ranikhet and Kausani are also popular hill getaways close to Almora from where one can get a breathtaking view of the mountains. Winters in Almora are quite chilly, but the snowfall here makes it worth braving the harshness that accompanies it. Make sure you pack plenty of warm clothes if you visit this place in the peak winters!
16. Katao, Sikkim – Bet you've never heard of this one!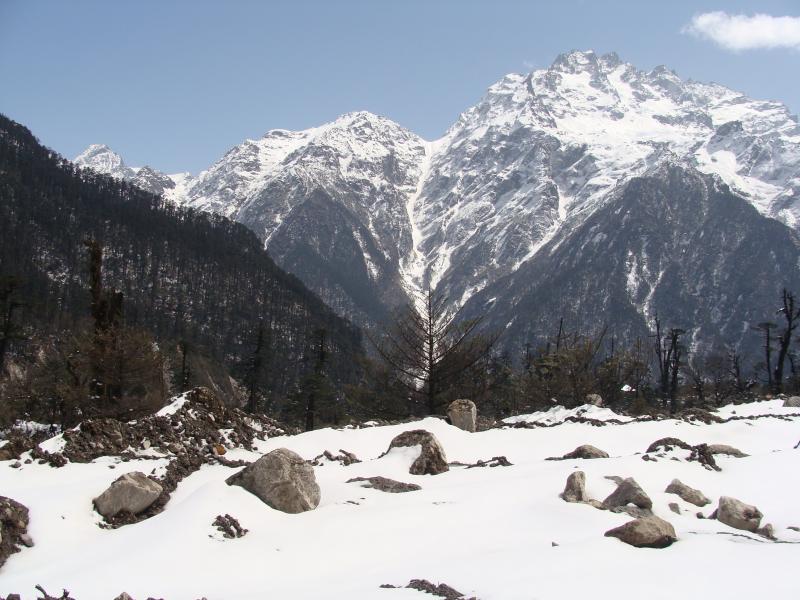 Snow season: December – February

Widely known as the 'Switzerland of Sikkim', Katao is a small, yet beautiful hill station located at a distance of about 144 kms from Gangtok. Though it is an offbeat place, people visiting Gangtok and Lachung can plan a day at this place. The scenery here is wonderful, as one can get a stunning view of the mountains. Winters here witness ample amount of snowfall and the entire place is transformed into a snowy paradise. However, it's important to note that Katao is not included in standard packages to Gangtok and one needs an army permit to visit this place.
17. Tawang, Arunachal Pradesh – Beautiful Hamlet to See Snow in India!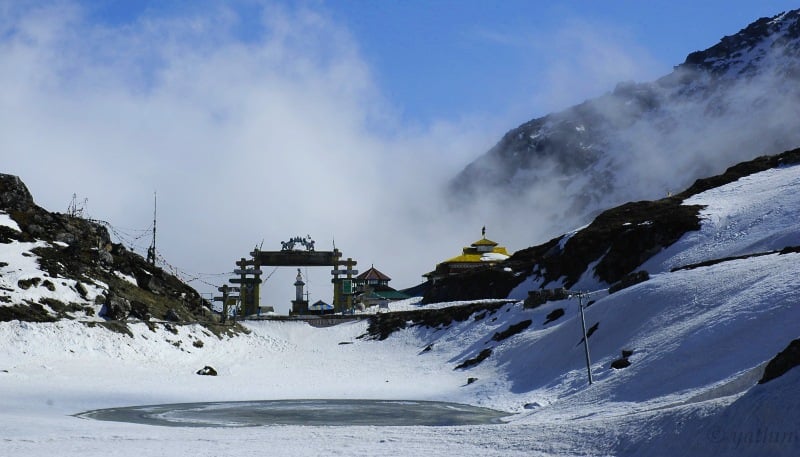 Snow season: December – January

A hidden beauty in the North-east, Tawang is the place to be if one wants to experience nature at it's finest. Sky high, snow clad mountains, gushing waterfalls and dense forests, you'll find it all at Tawang. The snowfall season in Tawang is mainly during December and January, and it's a place to be for all snow lovers and enthusiasts. Apart from having natural scenic beauty, it houses a 400 year old monastery and is hence an important centre for pilgrimage for Buddhists all over India. While here, a quintessential trip to the very famous Sela Pass is a must!!